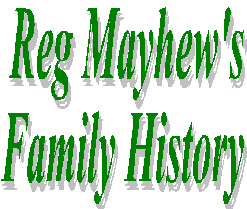 I've traced my Rice ancestry back to my 3 x Great Grandfather, James Rice (c1802-1868), a Cabinet Maker, who was born in London c1802, according to the 1851 census, although it gives no more precise a location. James next appears in my research marrying Alice Wills in Edgbaston, Warwickshire on 24th August 1823. Their marriage was followed by the birth of a son, George, in 1824 but sadly he died the following year. A second son, James, was born in 1826. Alice died in 1828 and James found himself a widower with a 2 year-old son to look after. He married Mary Bagshaw (my 3 x Great Grandmother), at St. Peter's, Aston, Birmingham on 26th August 1829.
What led James to Warwickshire from his roots in London, and at what date, is open to question but a James and Richard Rice (possibly his brother) appear in a Directory* as "cabinet and dressing case and portable desk etc. makers" of Bradford Street, Birmingham in 1830. Like James, Richard was also married at St. Peter's, Aston, to Emma Hill on 14th October 1828. Both marriages were witnessed by a Henry Rice, although his likely relationship to the bridegrooms is not proved. * "The History, Topography & Directory of Warwickshire" by William West
James and Mary had 3 children all born in Birmingham, the youngest of whom was my 2 x Great Grandfather Allen (1833-1889). James' surviving son by Alice Wills, James Augustus, died in 1834, aged 8, the final cruel blow to James' ill-fated marriage to Alice. By the time of the 1841 Census, James had returned to the city of his birth and the family were resident at Lawrence Street, Chelsea, London, where they remained until at least 1861.
Richard and Emma had also moved from Birmingham by 1841 and were living in West Derby, Lancashire with 6 children.
James died on 6th May 1868 at 2 Justice Walk, Lawrence Street, Chelsea.
---
My 2 x Great Grandfather, Allen Rice, was born in 1833 in Birmingham. Allen's occupation was principally a Saw handle/Tool maker, with temporary or additional employment as an Omnibus Conductor in 1857. He married Elizabeth Cobb, a Dressmaker, on 18th May 1856 at St. Martin-in-the-Field, London. Allen and Elizabeth lived at various addresses in Chelsea from the 1850's to the 1880's and had 2 sons, the eldest of whom was my Great Grandfather Allen Henry (1857-1897).
Allen senior died in 1889 in Chelsea.
---
My Great Grandfather, Allen Henry Rice, a Painter & Decorator, was born on 2nd April 1857 in Chelsea. Allen married Mary Alma Walsh, on 6th March 1881 at St. John, Chelsea, London. They had 3 children, including my maternal Grandmother, Elizabeth Alma (1882-1966) and lived at various addresses off of North End Road, Fulham, near to old Walham Green
Allen died in Fulham in 1897, of apoplexy according to his death certificate. A family story has it that his death was the result of falling off a ladder while at work. Mary died in died in Fulham in 1901.
---
My maternal grandmother, Elizabeth Alma Rice, was born on 6th May, 1882, in Fulham, London. She married my Grandfather, William Alfred Humphries, in May 1901 at St. Oswald's, Fulham, London. They had 10 children, the youngest of whom was my mother Grace Mary (1923-1997).
---