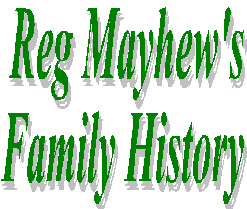 My Wheeler family link is by way of my paternal 2 x Great Grandmother, Jane Wheeler, the 4th child of Jasper and Jane (nee Norrington) of Bremhill, Wiltshire.
---
From Jane, I've traced my Wheeler ancestry back to my 5 x Great Grandfather, Robert Wheeler, who married Anne Green on 10th October 1762, in Netheravon, Wiltshire. Where Robert originated from is not known.
Robert and Anne's son William (c1770-?), the youngest of their 3 children, was my 4 x Great Grandfather.
---
William Wheeler, my 4 x Great Grandfather, was baptised on Christmas day 1770 in Netheravon. He married Elizabeth Atwood on 13th March 1794 in Enford, Wiltshire and they had 4 children including my 3 x Great Grandfather, Jasper (c1796-1866).
---
My 3 x Great Grandfather, Jasper Wheeler was baptised on 26th December 1796 in Bremhill, Wiltshire. Jasper, a Sawyer, married Jane Norrington in Bremhill on 12th March 1821. They had 6 children including my 2 x Great Grandmother, Jane (c1833-1888), with the family residing in Calne and Chippenham.
Jane senior died on 29th June 1852 in Chippenham of chronic bronchitis. Jasper moved (probably with daughter Jane and her family) to Chelsea in London some time after Jane senior's death and worked as a gardener until his own death there in 1866.
---
My 2 x Great Grandmother, Jane Wheeler, was born c1833 in Calne, Wiltshire. She moved to London (some time between 1852 and 1856), with her 1st husband Aaron Cox and their son, Alfred. By 1867 their family had grown to 6 children but Aaron died suddenly in 1868 of a heart attack (Jane and Aaron may have been estranged at this point. He died at 18 Slaidburn Street, Chelsea and there is no mention of Jane on the death certificate).
There is a family story which hints at a scandal relating to Jane's employment at a house in Bedford Square, London, W.C.1. and the paternity of her son, Frederick George Cox, born in 1867. So the story goes, Frederick was employed when only 7½ years old, cleaning silver at St. James' Palace. He received an allowance until he was 18 and spent a lot of money trying to prove who his real father was, but failed due to obstruction by officials.
By the 1871 Census, Jane and her children were living with my 2 x Great Grandfather, William Ainsby at Charlotte Street. The Census records them as married, although I've yet to confirm this. At the 1881 census, by which time Jane had 3 children by William, the family resided at 41 Caroline Place, Chelsea.
Jane died at 9 Arthur Street, Chelsea in 1888. William died in Chelsea in 1902.